On the road again — thanks to collaborative cancer care
Estimated reading time: 3 minutes
By Cynthia Weiss
Although he doesn't remember all the details, Bill McDermott says he began having abdominal issues and pain in mid-2021. He underwent some tests at a local hospital, where he got a diagnosis he did not expect.
Doctors told Bill he had large B cell lymphoma, a type of blood cancer.
"When I first heard the diagnosis, I was really shocked," says Bill's wife, Lourdes. "Lymphoma is something you hear other people having, not something that will happen to us."
Bill began chemotherapy at a facility near his home in Jacksonville, but by fall, he began to have what Lourdes calls "episodes where he was not himself."
Watch this video to hear Bill's story:
The cancer had spread to his brain. Doctors said there was nothing more to do except move Bill into hospice.
"The hopelessness set in very quickly," says Lourdes.
What they did next, however, brought him to Mayo Clinic, where a team of specialists had a different answer for Bill. The family requested a second opinion at Mayo Clinic Comprehensive Cancer Center.
Specialized lymphoma care
They met with hematologist/oncologist Muhamad Alhaj Moustafa, M.D., who explained that since the cancer had metastasized, it was now reclassified as a central nervous system lymphoma.
But he was at the right place to get help. "This type of cancer is a unique subtype of lymphoma that is very difficult to control. It requires different treatment than other lymphomas outside the central nervous system, so you need specific expertise to know how to treat these cancers, which are mainly found at academic medical centers," says Dr. Moustafa, who is part of a specialized lymphoma group at Mayo Clinic in Florida.
Treating more than cancer
"When I saw Mr. McDermott, I knew I could offer something less toxic to control his cancer," Dr. Moustafa says.
Bill, an auto enthusiast, had expressed that he hoped to be able to drive his car again.
"For him, that was a top priority," says Dr. Moustafa. "So, we needed to cure his lymphoma but also bring him back to life."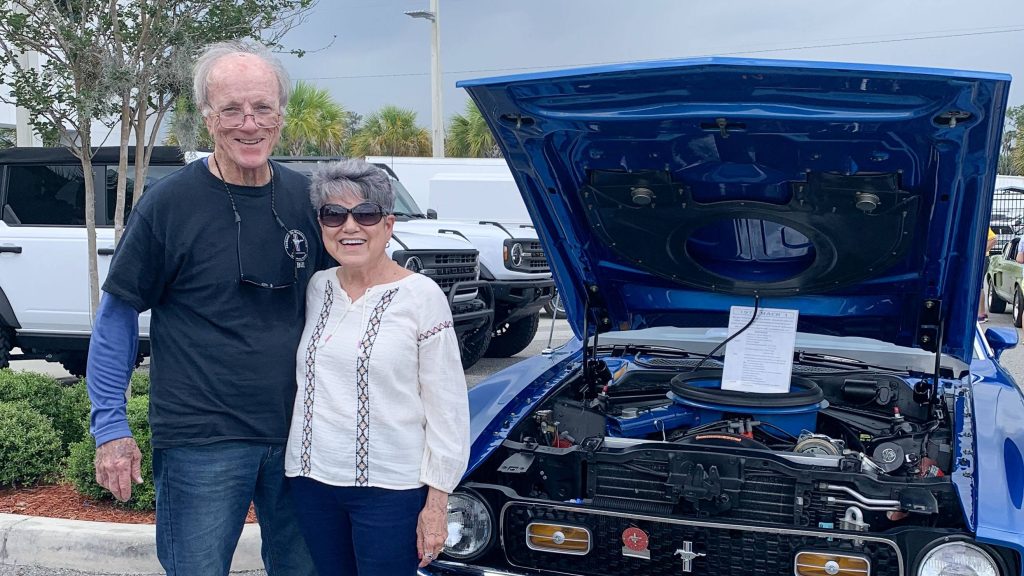 Dr. Moustafa selected a combination of drugs for Bill. He also assembled a team of experts from various practice areas, including neurology, neuropsychology, ophthalmology, physical therapy, and social work to get Bill back to health.
By the end of 2022, scans confirmed that Bill was in remission.
"It was a miracle," says Lourdes. Every day, I'm thankful to everyone at Mayo because I wouldn't have him sitting next to me today without Mayo Clinic."
In July, Bill and Lourdes embarked on a 10-day cruise to celebrate their 53rd wedding anniversary. The couple plans to travel to Atlanta and Nashville and Savannah, Georgia, in September and October to showcase their his-and-her Mustangs.
"It is great to get back behind the wheel and drive again," says Bill.
---
Related Posts
People with lymphedema may need regular skin cancer screenings, since early detection of skin cancer is critical.
Luana Q. celebrates the first anniversary of her liver transplant after being diagnosed with liver cancer due to hepatitis C.
After surviving two emergency surgeries to remove a life-threatening brain tumor, Mike Knudson is determined to live a life full of adventure.