'My life is in the right hands.' Surgery gives California woman hope after cancer diagnosis
Estimated reading time: 6 minutes
By Chloe Corey
Vishakha Majithia and her husband Thomas had started to envision their lives after retirement — visiting family in India, traveling around the world, and seeing their only son complete his oncology fellowship and start a family. But those plans quickly changed in mid-2018 when Vishakha received frightening news. She had been diagnosed with pancreatic cancer — the tumor was considered inoperable.
While the diagnosis came as a shock, it explained the seemingly unexplained symptoms Vishakha had experienced for more than a year.
Unexplained symptoms
Due to a family history of diabetes, Vishakha had always had her fasting blood sugar levels checked during annual physicals. In early summer 2017, those numbers came back a little higher than usual.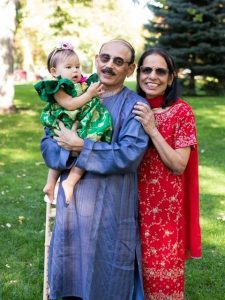 "It was not outrageous, but it was not acceptable to me because it always stays under 100," says Vishakha. "So I asked my primary care provider. 'What can we do? I need to lose weight, change my diet, or do something.'"
Vishakha set a goal to lose 10 pounds by slightly adjusting her diet. Within three months, she lost nearly 20. Although Vishakha wanted to have her blood sugar level tested again right away, her doctor recommended waiting until after the holidays. She was thrilled when, in January 2018, the blood sugar results came back normal.
"I thought I achieved my goal. So while keeping the diet, I returned to eating (with more flexibility)," says Vishakha. "However, I somehow found that I could not eat."
Vishakha remembers that every time she ate, it felt like somebody had put a stone in her stomach.
In addition to the heaviness, a few months later, she began to feel an intense pain on her left side, which radiated from her navel to her back. Knowing it wasn't just back pain, Vishakha returned to her primary care clinician, who agreed to perform an ultrasound. The results found nothing.
When a few weeks passed by without any improvement in the pain, Vishakha returned to her doctor for another ultrasound, but again, nothing. The true source of her pain remained a mystery.
Vishakha and Thomas' son, Neil, was a medical oncology fellow at Mayo Clinic in Rochester, Minnesota, at the time and encouraged her to demand a CT scan.
"That's when the whole story came out," recalls Thomas. "The doctor told us the tumor on her pancreas was unresectable, that Vishakha had six to nine months to live, and all they were going to do was chemotherapy."
That is when Neil immediately took action. It so happened that he had a chance to work with Mark Truty, M.D., a hepatobiliary and pancreas surgeon at Mayo Clinic.
"He sent an email Saturday night, and, by golly, Dr. Truty responded Sunday morning," says Thomas.
Dr. Truty shared that this type of tumor is traditionally considered unresectable by all the current guidelines, and only palliative chemotherapy is given at most centers.
"Vishakha's tumor had no obvious evidence of spread on the imaging, but it had grown outside of the pancreas to encase critical blood vessels, specifically her celiac axis, which is a main artery that supplies the stomach, the pancreas, spleen and the liver," says Dr. Truty.
He suggested an additional scan to help inform her treatment plan. Little did the family realize it would bring a new sense of hope for the future.
Designing an innovative treatment plan
In August 2018, Vishakha and Thomas traveled from their home in California to Rochester for a full restaging workup. Dr. Truty thought that, despite her initial diagnosis, Vishakha might be a candidate for surgery. But he needed more information.
Vishakha's initial PET scan showed a bright tumor, so she started a six-month course of chemotherapy back home in California. Every two months, she returned to Rochester for an updated PET scan.
"One of the staging exams that we've been doing at Mayo Clinic is a PET MRI scan, and the majority of the world does not use PET scans for pancreas cancer," says Dr. Truty.
When patients receive chemotherapy before surgery for other tumors, CT images often show whether the tumor is shrinking and if the chemotherapy is effective. But with pancreatic cancer, the tumor usually remains the same, making it difficult to assess if the chemotherapy had any benefit.
"The regular CT scan does not tell you whether what you're looking at is all living cancer or all dead scar tissue. It can't tell the difference," explains Dr. Truty. "That's why we use PET scans at Mayo Clinic. It's not just to see if there's any spread, but to measure a response to the chemotherapy."
If the PET scan is able to confirm a response to chemotherapy, many patients whose tumors are deemed unresectable because of vascular involvement may ultimately be candidates for surgery, adds Dr. Truty.
Before chemotherapy, a tumor should light up brightly – or hot – on the PET scan, Dr. Truty continues. After chemotherapy, if the tumor doesn't light up or is showing up as cold, that would suggest the chemotherapy was effective.
"Her tumor got colder and colder on the PET images, but the CT scan didn't show any change. The tumor was still wrapped around those blood vessels," says Dr. Truty. "Once we got the tumor completely cold, she received radiation therapy. Then we offered her an operation not offered at many other places in the world."
On March 27, 2019, Vishakha underwent a complicated operation called a celiac axis resection, which involves removing the pancreas, the tumor and the celiac axis. Once the celiac axis is removed, it must be reconstructed so it can continue supplying blood to the liver, spleen and stomach.
A recent study by Dr. Truty and colleagues found that PET scans are not only critically important to understanding a patient's response to chemotherapy but also the most significant predictor of actual survival, which helps predict how patients will do after surgery.
"We have a pathologist study the cancer after it has been removed, and if all of the cancer is dead or if most of the cancer is dead, those patients do exceptionally well," says Dr. Truty.
However, the pathology report is not known until after surgery. Using PET scans, surgeons can understand how effective the chemotherapy was before surgery.
"Not surprisingly, Vishakha's PET scan matched her pathology report. She hardly had any cancer left alive," says Dr. Truty.
Looking to the future
Vishakha knew about Mayo Clinic's reputation, partly from her son, which helped her remain positive throughout treatment.
"I went into surgery telling them my life is in the right hands. Even when I was going through this, not for one time did I feel that I wouldn't come out of it," says Vishakha. "Maybe I felt the support. Maybe I felt that positivity. Maybe as soon as I met Dr. Truty, that was my destiny."
Today, Vishakha is enjoying a new chapter as a grandmother, something she wasn't sure she'd experience.
"At the time of my diagnosis, I didn't know if I would be able to meet or hold my granddaughter," says Vishakha. "Now, we just celebrated her first birthday."
And she is looking forward to many more birthdays to come.
Learn more
Learn more about pancreatic cancer and find a pancreatic cancer clinical trial at Mayo clinic.
Join the Pancreatic Cancer Support Group on Mayo Clinic Connect, an online community that connects patients and caregivers.
Also read these articles:
A version of this article was originally published on the Mayo Clinic News Network.
---
Related Posts
Rita Krueger shares the lessons she has learned from her experience with pancreatic cancer diagnosis, treatment and survivorship.
Performing a minor surgical procedure on patients newly diagnosed with pancreatic cancer helps to identify cancer spread early and determine the stage of cancer.
Researchers demonstrated a way to predict survival outcomes for people with borderline resectable or locally advanced pancreatic cancer.